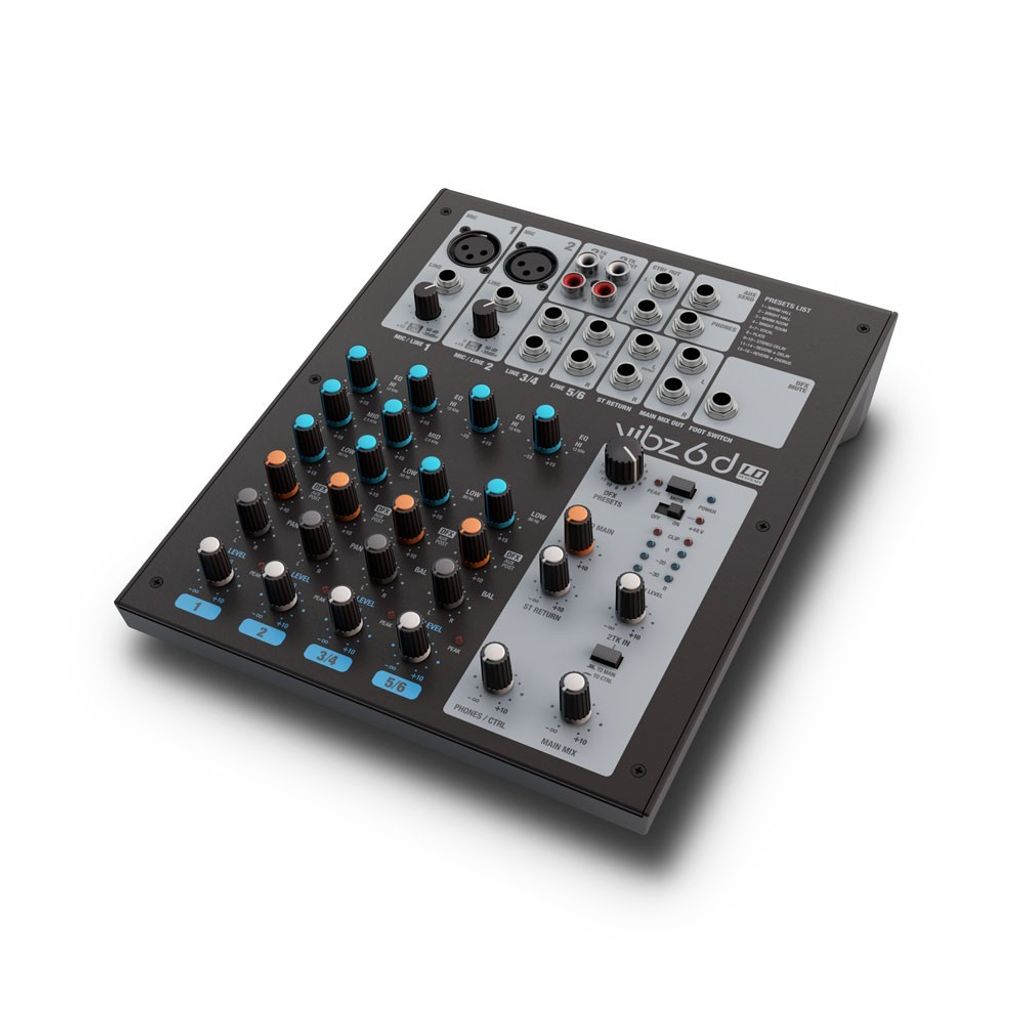 LD Systems VIBZ 6 D 6 channel Mixing Console with DFX
https://www.ld-systems.com/en/solutions/dj-musician/preamplifiers-mixing-consoles/mixing-consoles/4622/vibz-6-d
6-channel mixer with 16 digital effects
2 microphone channels with 3-band EQ
2 mono-compatible stereo line channels with 2-band EQ
Master, Monitor and headphone outputs
Securely fastening external power supply
The VIBZ 6 is a compact 6-channel mixer which is perfectly suited to entertainers, small bands, home recording and installations. It features two balanced microphone inputs with high quality preamps, phantom power and 3-band EQ with +/-15 dB adjustment scope, two stereo line inputs with 2-band EQ, which are mono-compatible, and an effects loop.
The master section of the VIBZ 6 is equipped with adjustable monitor outputs, a headphone jack and 16 digital effects presets, which are foot-switchable. The mixer also has inputs and outputs for recording and playback devices, is extremely easy to use and offers a warm differentiated sound. The external power supply can be screwed on tightly.
A foot switch for the effects section and an adapter for mounting the VIBZ 6 on microphone stands are available as accessories.
Product type
Mixers
---
Type
Live
---
Channels
6
---
Mono Channels:
---
Mono Mic and Line Input Channels
2
---
Mono Mic input connectors
6.3 mm TRS , XLR
---
Mono Mic Input Type
electronically balanced
---
Mono Mic Input Frequency Range
10 Hz
---
Amplification Range mono Mic Input
0 - 50 dB
---
Mono Mic Input Input THD-N
0.0058%
---
Mono Mic Input Impedance
4k Ohm(s)
---
Mono Line Input Type
electronically balanced
---
Mono Line Input Frequency Range
10 Hz
---
Amplification Range mono Line Input
0 - 50 dB
---
Mono Line Input Input THD-N
0.0045 %
---
Mono Line Input Impedance
21k Ohm(s)
---
Mono Line Input S/N Ratio
116 dB
---
Mono Channel Equalizer High
+/- 15 dB @ 12000 Hz
---
Mono Channel Equalizer Low
+/- 15 dB @ 80 Hz
---
Controls Mono Mic and Line Input Channels
3-band EQ (High, Mid, Low) , AUX (DFX) Post , Channel Volume , Gain , pan
---
Phantom power
48 V DC switchable
---
Stereo Channels:
---
Stereo Line Input Channels
2
---
Stereo Line Input Connectors
6.3 mm TS
---
Stereo Line Input Type
unbalanced
---
Stereo Line Input Frequency Range
10 - 54000 Hz
---
Stereo Line Input Input THD-N
0.0045 %
---
Stereo Line Input Impedance
3,7k Ohm(s)
---
Stereo Line Input S/N Ratio
116 dB
---
Stereo channel equalizer treble
+/- 15 dB @ 12000 Hz
---
Stereo channel equalizer bass
+/- 15 dB @ 80 Hz
---
Controls Stereo Line Input Channels
2-band EQ (High,Low) , AUX (DFX) Post , Balance , Channel Volume
---
Main Section:
---
AUX / Effects Send Channels
1
---
AUX / Effects Send Connectors
6.3 mm stereo jack unbalanced
---
Stereo AUX Return Channels
1 x stereo
---
Stereo AUX Return Connectors
2 x 6.3 mm TRS
---
Stereo Tape Out Channel
1 x stereo
---
Stereo Tape Out Connectors
2 x RCA (Cinch)
---
Stereo Tape In Channel
1 x stereo
---
Stereo Tape In Connenctors
2 x RCA (Cinch)
---
Unbalanced stereo Main Outputs
1
---
Unbalanced stereo Main Output Connections
6.3 mm TRS
---
Unbalanced Stereo Main Out Impedance
120 Ohm(s)
---
Max. Unbalanced Stereo Main Out Level
+20 dBu
---
Stereo Control Room Out
1
---
Stereo Control Room Out Connectors
6.3 mm stereo jack unbalanced
---
Headphones ouput
1
---
Headphones outputs
6.3 mm TRS
---
Digital Effects Processor
Yes, 24-bit AD/DA Resolution
---
Number of Presets
16
---
Footswitch Connector DFX Mute
6.3 mm TRS
---
Main section controls
2-track Assignment (Main, Contr. Room) , 2-track In Volume , DFX Mute Schalter , DFX Presets , DFX To Main Volume , Master Volume , Phantom Power , Phones / Control Room Volume , Stereo Return Volume
---
Indicators
4-segment Level Meter , Channel Peak , DFX Peak / Mute , Phantom Power , Power
---
Operating voltage
18 V AC - 1 A, External PSU , 230 V
---
Width
209 mm
---
Height
68 mm
---
Depth
260 mm
---
Weight
1,45 kg
---