Lachmi Enterprise, electronics trading business at 61 Ubi Rd 1, #01-13 Oxley BizHub, Singapore 408727 is an ACRA registered (07853700B) Partnership. Founded in 1975 as a small trading partnership between two brothers Dayaldas and Ramchand, Lachmi Enterprise has grown into an active enterprise having SGD 100 plus million annual revenue. We handle a variety of products serving customers both in overseas markets and locally.
The company is now run by second and third generation family members. The business focuses on Importing and Integrating Professional audio/video broadcasting equipment in such brands as Sony, Canon, Panasonic, Sennheiser, LD Systems and many others bought from Asia-Pacific and North American regions. These audio products are exported to customers in South East Asia, Middle East and Western/Central/Eastern European regions. Additionally, local whole-sale and retails trading is also done.
Lachmi Enterprise is diversifying into Singapore local and overseas residential and commercial properties bulk buying and retailing. Recently, it has embarked on a massive and innovative programme of acquiring large portfolio of residential properties in Scotland for retailing to Asian and other country individuals.
Lachmi Enterprise has excellent expertise in delivering your needs of audio equipment and properties. Our experience in dealing with various types of customers in many countries has given us the ability to seek out your specific needs and serve you to give full satisfaction. Lachmi Enterprise has received many annual awards, Medals, Certificates of Authorization from various Manufacturers and Commercial Associations such as Sennheiser, Videonics, Sharp, Adam Hall, LD Systems etc.
Lachmi Enterprise has been presented with the award of Singapore's Top 100 SME in the year of 2014 for their outstanding performance in audio and video broadcasting equipments. They have even received a certificate of completion to certify their internal brand audit process in 2014. Lachmi Enterprise has received the Singapore Prestige Class Awards for the year of 2014-2015 in recognition for business excellence.
Meeting our customer needs is our GOAL
Milestones and Awards Over The Years:
2014
Top 100 SME in the year of 2014 for outstanding performance in audio & video broadcasting equipments.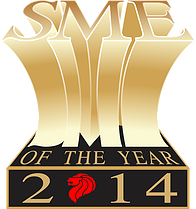 2015
Presented with the Singapore Prestige Class Awards 2014-2015 in recognition for business excellence.